Love. A word of the English vernacular, a popular staple term, a piece of vocabulary commonly used to express attraction towards something.
In fact, I would argue that the word has lost the weight of the meaning that it held long ago. As a society we have come to love virtually anything with a semblance of appeal: we "love" Starbucks, we "love" VANS, we "love" Snapchat.
Having caught myself within this trend as well, it wasn't until recently that I attempted to distinguish the things that I truly love from those that I admire superficially.  In my circumstance, something that I genuinely love is certainly prefaced by an intense attraction to such. However, these things also had a tendency to have an impact, to influence me in ways that have defined aspects of my character, shaped my personal values, and altered my outlook on the world at large.
And this description perfectly describes the love that I hold for Studio Trigger (and probably why my Facebook and Twitter profiles reference them in my bios).
But my high regard for the Tokyo-based animation studio does not exclusively stem from the fact that the studio has produced several of my favorite television shows. Rather, the core philosophies of the studio contribute to this notion in addition to the impact their animation projects have had on my own character, something that I am proud to express to everyone out there. Heck, I definitely would enjoy working there if I ever had the chance 🙂
A Global Mindset
Studio Trigger has always maintained strong relationships with its fanbase across the globe to create a community that people can become a part of. Having witnessed these tangible efforts over the past couple years, it felt immediately refreshing in a society dominated by the overwhelming presence of business that can often put other initiatives in high priority over community engagement. So while I largely know Studio Trigger as a great animation studio, there's a strange feeling of camaraderie established from these interactions.
To provide examples, the studio launched a Kickstarter project to fund a short animated feature by the name of Little Witch Academia, by which fans could contribute funds to meet a specific threshold. Almost two weeks ago, Studio Trigger formed a Patreon that allows for anyone to make a direct monthly contribution to the studio, something that I was elated to vouch my support for. Very few entertainment companies that I adore currently provides these means, whether it be due to their scope or their unwillingness, apart from creators in the YouTube sphere.
All in all, Studio Trigger leaves the genuine impression that they care about the feedback of their advocates and desire to make strides that account for it, regardless of any geographical boundaries that could pose restrictions upon company and fan interaction.
If my brief description didn't sway any minds, perhaps this video prepared for Anime Expo by will provide some complimentary evidence to my claim 🙂
A Drive To Experiment Without Fear
It seems that stagnation has become the new barrier to further innovate and impress; the arguably minor, inconsequential generational leaps of the iPhone may serve as an indication of what I am referring to.
Put simply, Studio Trigger has demonstrated time and time again that they are willing to take ventures into new genres and storylines with their original projects in a variety of distribution formats rather than capitalize on existing franchises and universes that have garnered popularity.
Within the span of seven years, these original projects have included:
The bombastic and complex series of Kill la Kill… 
The light-hearted and episodic Little Witch Academia (released in both short film and TV format)…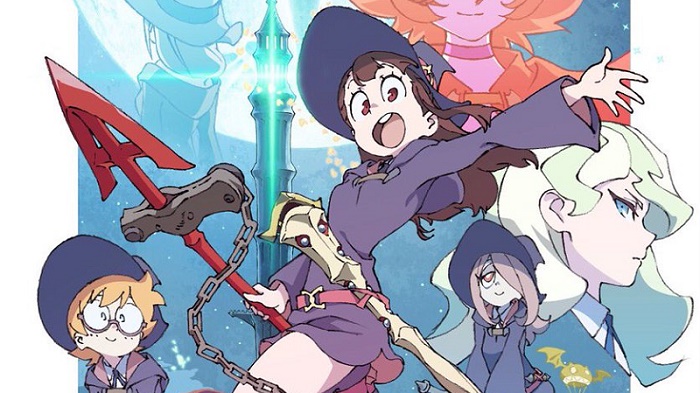 The short-form absurdist comedy of Inferno Cop…

And the sci-fi dystopian drama of Kiznaiver
I personally find this small catalog of shows to be phenomenal given the lifespan of their studio. As of late, they are continuing to pioneer new practices that increase the output of their content while maintaining the quality and flair that makes a Studio Trigger show, as seen with the recent release of Darling in the Franxx. And because of this, they have quickly positioned themselves in a place distinct from its acquaintances that continues to make pursuits towards greatness and originality.
A Capacity To Instigate Change
Plenty of these shows from Studio Trigger have achieved a standard of mastery, be it intentional or unintentional. On one hand, Little Witch Academia demonstrates a beautiful simplicity in its narrative that portrays a concise message to stay true to yourself against external pressures that has left a larger impression on me.
However, it may ironically be the unintentional qualities of Studio Trigger shows that have impacted me on the most personal level. And it happens to revolve around a show I mentioned earlier: Kill la Kill
This might come as a surprise, but I actually wasn't a big fan of Kill la Kill when I first watched it late in 2014. At the time, I was turned off by the heavy use of fanservice that was distracting at the time, even though I found its style to be intriguing, and stopped watching after three episodes.
But somehow and some way, Kill la Kill appeared on my Netflix recommendations list in the middle of 2016, and a lingering impulse compelled me to give a second chance. And am I so, so glad that I did.
I have already expressed my appreciation for Kill la Kill on multiple instances, but I cannot understand how much this one show has informed a wide range of my beliefs and values. For example, I have developed strong beliefs for  bipartisanship and free speech, which one can learn more about in an earlier blog post. This specific gateway has instigated my interest in political affairs and current events, as I hope to one day promote these own values as a message to people across the nation. It's probably why I have become averse to restrictive and authoritative ideas in favor of free thought on all fronts. I doubt that the team at Studio Trigger intended this to be a lesson learned from their work, but I certainly believe they strove to make Kill la Kill as open to interpretation as possible.
In addition,  Kill la Kill directly inspired me to jumpstart this blog and begin pursuing my own passions. For those curious, the blog name "Sekamui" is actually a combination of my first name and a part of the name used for the trademark outfits adorned by the main characters in Kill la Kill. To this day, I continue to believe that I have been able to speak most passionately about the show and its subject matter amongst everything else composed for the blog due to my affection for it and Studio Trigger.
Conclusion
To sum up my thoughts, Studio Trigger puts it face to its name, not only through the masterful shows they've managed to craft over their short lifespan, but most importantly the zealous people at Studio Trigger that dedicate their heart and time each day to bring its fans across the globe quality content that has a wide range of appeal.
As Studio Trigger continues to dedicate their resources to original projects that make new strides within the anime industry, with the likes of SSSS. Gridman and Promare arriving in the near future, I will always continue to appreciate those behind the scenes that are purely responsible for the genuine respect I hold towards the studio, and even the person that I am today.
It's also why I was so glad that I had the opportunity to attend a panel and meet two key members at Momocon 2018, specifically Mr. Masahiko Otsuka and Mr. Hiromi Wakabayashi. Personally, I felt deeply honored to meet them in person and appreciate the chance to interact with two of the spirited people who work at Studio Trigger.
Thank you Studio Trigger. I love you guys 🙂